As I type, I feel like I am sneaking in a post, not because I 'm racing the clock to beat the time when my sleeping children awake, I wish. But to beat the time they decide they want to use the computer. They stand next to me, yelling and demanding, sit on my lap, try to share the chair, against my will of course, and do everything they can to make me give in to their persistent request.
We recently got a new computer, which I'm not happy about, but that's another post for another day, and we decided to put the older computer down in the basement. At the time, only 6 months ago, the kids weren't really interested in using the computer and their request to use it was rare. A lot changes in 6 months, my kids have become little computer geeks and at 5 and 3 are probably better navigating most websites then my mom, sorry mom. So now, most my thoughts are lost, to screams they want to use the computer. Most my time, is spent breaking up fights to use the computer and most my posts have been resulted to making rough drafts on paper and then translating them to the computer when every one is asleep. And sleep is something my 11 month old hasn't been doing lately, so I'm sleep deprived and my mind is toast.
So, what's a better thing to do when you have to get your mind going again, need inspiration, and can barely function? Hop around and meet some new bloggers, of course with my coffee in hand.
Here are some great Friday Blog Hops. Thank goodness it's Friday!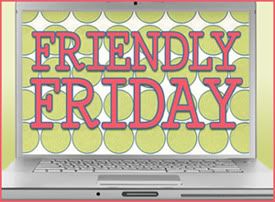 If you are visiting my blog from the PA,NJ, or DE area, or you'll be in the area this November, don't miss my current giveaway: A family 4pk of tickets to the Strasburg Railroad's Day Out with Thomas. Click
here
to enter.