Welcome to my new blog hop, Swingin' by Sunday.
Grab a coffee or some tea and meet new friends.
There are no rules, except to have fun and explore.
I picked a featured blogger and would like you to stop on by and visit their blog,
check it out and follow if you wish.
If you join my hop and follow my blog, I'll follow you back.
Each week, if you leave me a comment, I'll pick a new featured blogger!
This week, I'm picking blogger, Eastlyn, who is a good one that every blogger should know.
Not only does she write great posts, that are like a slice of her life,
I feel like I know her already, she leaves great
comments and in my opinion, that is a great trait to have as a blogger friend.
Her blog and her posts are warm, welcoming and inviting.
So stop on by and visit.
And if
you decide to stop by,please let her know that I sent you.
Click
here
to check out Eastly at Wilborn-White News.
And please, if you are in the hopping mood, check out my Philly Mom's Time Out co-blogger Debra from Lucas's Journey with SPD. She is holding a 3 weekend, 7-1 blog hop with giveaway! Nice.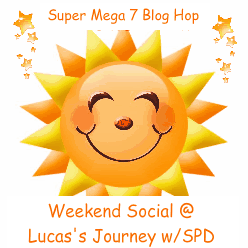 Thanks for joining me.
Happy Hopping.