Welcome to Swingin by Sundays!!
If you followed me and I haven't gotten back to you,
We have had a lot going on in my house between birthdays and sick kids ,dance, t ball and PTA stuff that I have been thrown off my blogging schedule. I will be back on it soon and look forward to following and meeting all my new blog friends and writing more posts too.
For now...enjoy Swingin by Sunday!!!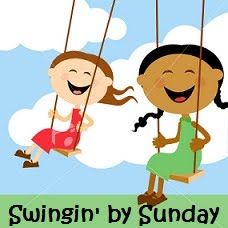 Grab a coffee or some tea and meet new friends.
There are no rules, except to have fun and explore.
We picked a featured blogger and would like you to stop on by and visit their blog,
check it out and follow if you wish.
If you join our hop and follow our blogs, We will follow you back.
Each week we'll pick a new featured blogger!